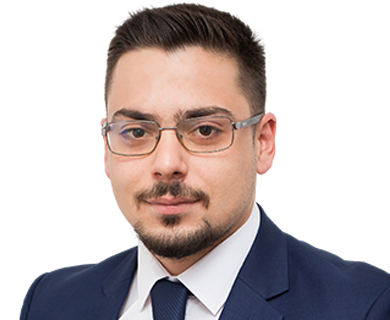 Galin Atanasoff is a Senior Associate at DGKV, whose main specialization is in the fields of litigation, arbitration and insolvency. Galin joined the firm in 2016 and since then he has been an active member of the teams handling some of the firm's key commercial and litigation projects. Galin also has a solid experience in settlement negotiations and litigation procedures before the civil courts and arbitration tribunals in diverse disputes over the performance of commercial contracts, insurance contracts, asset tracing and recovery of fraudulently obtained assets, etc. He is also an active member of the law firm's general corporate and commercial, regulatory, and anti-money laundering practices.
Involvement in recent representative projects:
Representation of Mechel International Holdings GmbH in a high-value registered pledge collection matter against Thermal Power Plant Pleven and Thermal Power Plant Rousse in respect to the sale of the latter, and in the related litigation against the National Electricity Company (NEK EAD).
Representation of the Bulgarian Financial Supervision Commission in a total of 19 proceedings before the Supreme Administrative Court based on an appeal of IsaOdit Ltd. against the watchdog's decision to remove it from the list of approved auditors to verify the assets of Bulgarian pension and insurance companies.
Out-of-court negotiations and court representation of a Bulgarian specialized eye hospital in civil litigation against the Bulgarian National Health Insurance Fund (NHIF) regarding the payment by the NHIF of remuneration for health treatments, hospitalization and ambulatory services performed by the hospital in favour of insured parties, included in the mandatory health insurance package guaranteed by the Bulgarian State.
Representing CEZ Electro Bulgaria AD in a complex commercial dispute with Receiver ChB EOOD related to the insolvency proceeding of а Bulgarian energy trader Future Energy and receivables of CEZ Electro Bulgaria AD stemming from Settlement Agreement with Future Energy and Karpleon, one of Future Energy's privileged creditors.