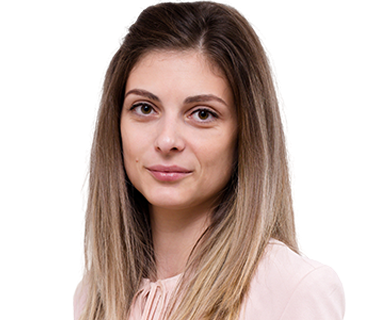 Elena Shopova is a Senior Associate in DGKV's Dispute Resolution, General Corporate and M&A practices. Elena has substantial experience advising domestic and international clients regarding mergers, acquisitions, and other forms of restructuring of companies on both individual and group levels. Elena advises clients on a broad range of corporate matters and foreign investments, including corporate structuring, incorporation, management, and dissolution, and other matters related to their presence in Bulgaria, as well as advising clients on employment matters. She has also been involved in major domestic and international arbitration procedures and commercial disputes, and has helped clients get foreign judgments and arbitration awards recognized and enforced in Bulgaria.
 Recent representative projects include:
Helping represent Bulgarian telecommunications company Bulsatcom in proceedings before a Bulgarian arbitration institution involving disputes valued at EUR 7.8 million and EUR 15.8 million, respectively, filed by former directors seeking compensation under golden parachute clauses in management contracts allegedly existing between them and the company.
Representing global mining and metals companies Mechel International Holdings GmbH and Mechel Carbon AG in a USD 18.8 million registered-pledge-collection matter against Thermal Power Plant Pleven and Thermal Power Plant Rousse relating to the sale of the latter to the former, and in related litigation against the National Electricity Company EAD as a third-party debtor under pledged receivables.
Representing Telecom Italia Sparkle in a commercial dispute against a Bulgarian debtor arising from a contractual relationship governed by the laws of Italy.
Helping facilitate the implementation in Bulgaria of the global separation and reorganization of IBM's managed infrastructure services business into IBM and Kyndryl.