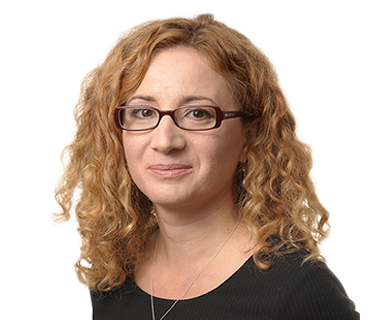 Kalina Tchakarova is a Partner at DGKV, where she heads the firm's Intellectual Property and Pharma & Healthcare practices and co-heads the firm's Media, Entertainment and Sports practice. Her areas of expertise also include contract law, employment, M&A and general corporate law. Kalina has extensive experience dealing with all types of matters for the pharma industry, including M&A, incorporations, distribution, and product launch, as well as with decommercialization, regulatory issues, advertisements, clinical trials, relations with HCPs and HCOs, employment, public-procurement procedures, and appeals of regulatory decisions.
Kalina, who launched DGKV's Intellectual Property practice and built it into one of the best in the country, has been a leading intellectual-property-law practitioner for more than 20 years, and regularly helps clients develop strategies to secure adequate and enforceable brand and design protection. She has extensive experience in filing, prosecuting, opposing, cancelling, and revoking trademarks, conducting intellectual-property due diligence and audit exercises, and in advising on in-kind contribution of IP rights, on IP-focused M&A deals, and on the drafting, negotiating, and registering of licensing and pledge agreements, as well as undertaking enforcement actions and providing strategic counselling in settlement negotiations. Kalina represents clients before the Bulgarian Patent Office, courts of law, and customs and other administrative authorities with trademark-related competences. On the copyright front Kalina advises on the validity of copyrights, assists in enforcement actions, conducts due diligence in complex transactions involving software acquisition, drafts settlement agreements between authors, employers/assignors, and acquirors, and drafts all types of contracts focusing on copyright objects, including but not limited to software, works of design, works of literature, and technical inventions.
Recent representative projects include:
Advising Carlsberg Breweries and its Bulgarian subsidiary for over 16 years on trademark-registration and opposition matters, risks related to the introduction of the group's foreign labels on the Bulgarian market, and trademark-enforcement strategic advice, as well as assisting with renewals and monthly-trademark monitoring.
Advising Meta (Facebook Inc.) for more than 12 years on the protection and enforcement of its trademark rights in Bulgaria, including filing oppositions, negotiating with owners of conflicting signs and applications, and representing the company in infringement litigation and settlement negotiations. In recent years the scope of work has been extended to cover hate-speech matters, coverage of election campaigns, and the obligation to assist Bulgarian authorities in cases where disclosure of data about users is requested.
Advising Swedish Orphan Biovitrium AB on all aspects of its operations in Bulgaria, including patient-support-service agreements, localization of HCC agreements, corporate matters, and regulatory compliance, among others, and – recently – preparing a local compliance presentation for one of the company's Bulgarian contract partners.
Assisting Aspen Pharma Europe GmbH on general corporate and regulatory matters, privacy issues, contract reviews, and de-listing of products.