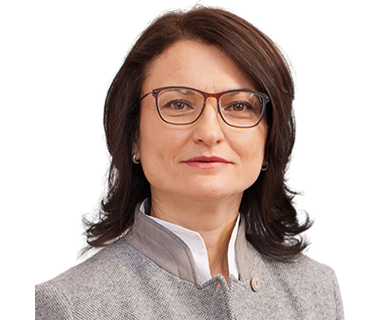 Violetta Kunze is a Partner at DGKV, heading the firm's Communications & Technology practice and co-heading its M&A, Media, Entertainment & Sports and Privacy and Data Protection practices. Violetta possesses in-depth TMT expertise and 25 years of practical experience advising major domestic and international telecom, media, and online service providers on landmark projects in Bulgaria. She advises clients on telecom- and media-regulatory matters, including the launching of new services; outsourcing agreements; and streaming, satellite services, and platforms, as well as on data protection and cyber security. Violetta maintains an excellent practice advising clients on a broad range of corporate and foreign-investment matters and compliance issues, as well as on cross-border transactions in the TMT sector and beyond. She has been involved in some of the landmark privatizations (including that of the Bulgarian incumbent telecommunications operator). She is regularly and highly recommended by the most respected international legal guides and directories.
Recent Projects Include:
Advising PPF Telecom Group B.V. on the Bulgarian-law aspects of its sale of a 30% stake in CETIN Group N.V., the leading telecommunications infrastructure provider operating across Central and Eastern Europe.
Advising on Bulgarian-law aspects of and assisting with the implementation of the global acquisition of the major entertainment assets of 21st Century Fox by Walt Disney Co. in Bulgaria.
Providing ongoing advice to a portfolio of leading global telecommunication operators on telecom-regulatory matters and representing them before Bulgaria's Communications Regulation Commission with respect to their operations in Bulgaria, as well as advising them on contractual matters vis-à-vis their clients in Bulgaria.
Providing recurring advice to global tech companies, OTT operators, and platforms on telecoms regulatory matters, AdTech, data-breach-notification obligations, and security-incident procedures, as well as on consumer protection and other compliance requirements associated with their operations in Bulgaria.