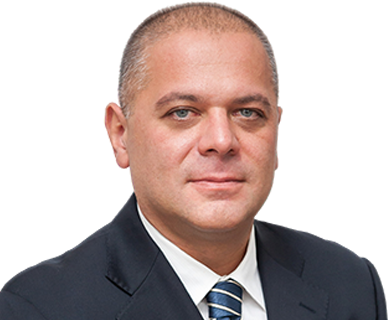 Angel Ganev is the partner and leading lawyer of the firm's Dispute Resolution Practice, heading the advisory work and representation of a number of the firm's biggest international and local clients within litigation and arbitration proceedings before the Bulgarian courts of law, and domestic and international arbitration institutions. His experience includes, among others, representation of clients in legal proceedings before the European Court of Justice. Angel is a graduate of the School of International Arbitration at Queen Mary, University of London, and sits as arbitrator in cases under ICC and VIAC rules and as arbitrator in cases under the rules of the Permanent Court of Arbitration with the German-Bulgarian Chamber of Industry and Commerce, in addition to his counsel work. Angel is also a qualified administrator of insolvency estate and may act as a trustee in insolvency proceedings.
Involvement in recent representative projects:
Acting as a co-counsel to The State General Reserve Fund of the Sultanate of Oman in an investment arbitration case against the Republic of Bulgaria before the International Centre for Settlement of Investment Disputes, Washington D.C. in relation to the termination of the bank license of Corporate and Commercial Bank AD and the consequent bank insolvency proceedings before the competent Bulgarian courts.
Acting for Inekon Group a.s., Czech in ad hoc arbitration proceedings under UNCITRAL rules against Sofia Municipality, where the value in dispute exceeded EUR 10 mln.
Representing ČEZ, a. s. in ICC arbitration and related disputes which arose with public entities in connection with a share privatization sale agreement.
Acting for Ciments Français in proceedings for recognition and enforcement of arbitral award with a value of over EUR 50 mln.