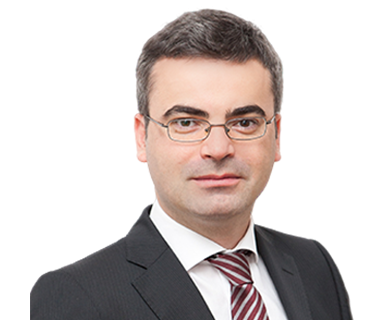 Valentin Bojilov is a Partner at DGKV and a frequent team leader in some of firm's major banking & finance, M&A, and dispute resolution matters. He also has extensive experience in joint ventures and general corporate matters. His diversified experience enables him to provide valuable insights from a variety of legal viewpoints to secure the successful outcome of virtually any project.
Recent representative projects include:
Advising the Integral Venture Partners investment firm on its strategic investment across the capital structure of Bulgarian pay-TV pioneer Bulsatcom.
Advising investment group PPF on Bulgarian law aspects of a series of transactions: the sale by PPF of a minority stake in CETIN Group; PPF's acquisition of Central European Media Enterprises (including its major Bulgarian asset bTV); and PPF's acquisition of the regional assets of Telenor (including Bulgarian mobile operator Telenor Bulgaria).
Advising the Swedish Consilium Safety Group, a world leader in the area of fire-and-gas safety detection and related technologies, on Bulgarian law aspects of its acquisition of Unipos, a Bulgarian manufacturer of fire safety detection systems.
Advising Citigroup Global Markets Limited, J.P. Morgan Securities, BNP Paribas, and UniCredit Bank on the update of the Republic of Bulgaria's Global Medium Term Note Programme (which increased from EUR 8 billion to EUR 10 billion in 2020) and the Republic of Bulgaria's concurrent 2020 issuance of EUR 1.25 billion and EUR 1.25 billion bonds, as well as on the Republic of Bulgaria's 2016 issuance of EUR 1.144 billion and EUR 0.85 billion bonds.